What Makes Capellino Sauces and Ravioli Different?
The quality of my recipes, the pure ingredients, and the careful cooking process makes Capellino Sauces and Ravioli better than others.
My Sauces and Ravioli contain no trans fats.
My Tomato Sauce recipes are rich and smooth. I start by slowly cooking carrots and onions in extra virgin olive oil. These vegetables lend their natural sweetness to the sauces, eliminating the need for added sugar and reducing the acidity of the tomatoes. Additional ingredients make each tomato sauce different: fresh cremini mushrooms, garlic, herbs, or rich cream. The sauces are then cooked only briefly, preserving their fresh taste. The result is one of my delicious tomato sauces.
Pesto sauce with pine nuts is made with fresh basil and garlic, extra virgin olive oil, aged parmesan cheese, and pine nuts. Pure and simple, this pesto sauce is my most popular product.
Pesto and cream sauce is a creamy version of my classic pesto which melts over hot pasta for a rich and elegant sauce.
My Alfredo Sauce is very rich, thickened only with heavy cream. Aged Parmesan cheese and pure butter are added to create a luscious, indulgent sauce.
I make Ravioli 48 in a box (14 ounce). My delicate ravioli are made the old-fashioned way with thin sheets of pasta and overstuffed fillings. The ravioli come with four different fillings: Cheese; Roasted Vegetables and Butternut Squash; Spinach Ricotta; and Artichoke and Asaigo Cheese. Any of these ravioli can be matched with any of my sauces for a fabulous meal.
That's why my Sauces and Ravioli are different. It is the quality ingredients and the cooking process that makes my Sauces and Ravioli different and the best!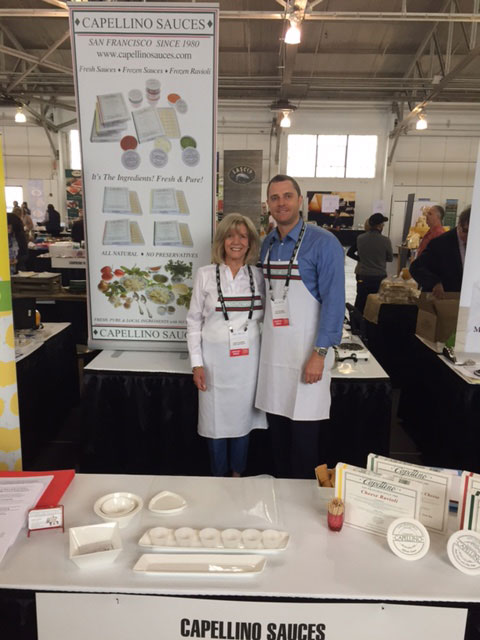 Specialty Food Show, August 2017
A Company of One
In 1980, I created my first pasta sauce in my San Francisco kitchen. It was a true Alfredo Sauce using heavy cream, butter and pure Parmesan cheese, worth every calorie. Why Alfredo? It all started when I hosted my Italian dinner parties. When fettuccini Alfredo was served as a first course, guests wanted seconds; by the time the main course arrived, everyone was already full!
At that time Alfredo sauce was new to people. I did grocery store demonstrations in San Francisco and the product sold out most every time.
Busy times for me, selling the Alfredo Sauce, purchasing ingredients, delivering product, demonstrating in grocery stores, creating ideas and recipes. The product line began to expand with Pesto and Cream Sauce, then Tomato Cream, and next Tomato Cremini Mushroom. Then Artichoke and Asaigo Cheese Ravioli was created the old fashioned way in my San Francisco kitchen. Thirty years later Capellino Sauces and Ravioli is still a Bay Area company using the same pure ingredients and made the old fashioned way. Enjoy! Still a Company of One — and my son!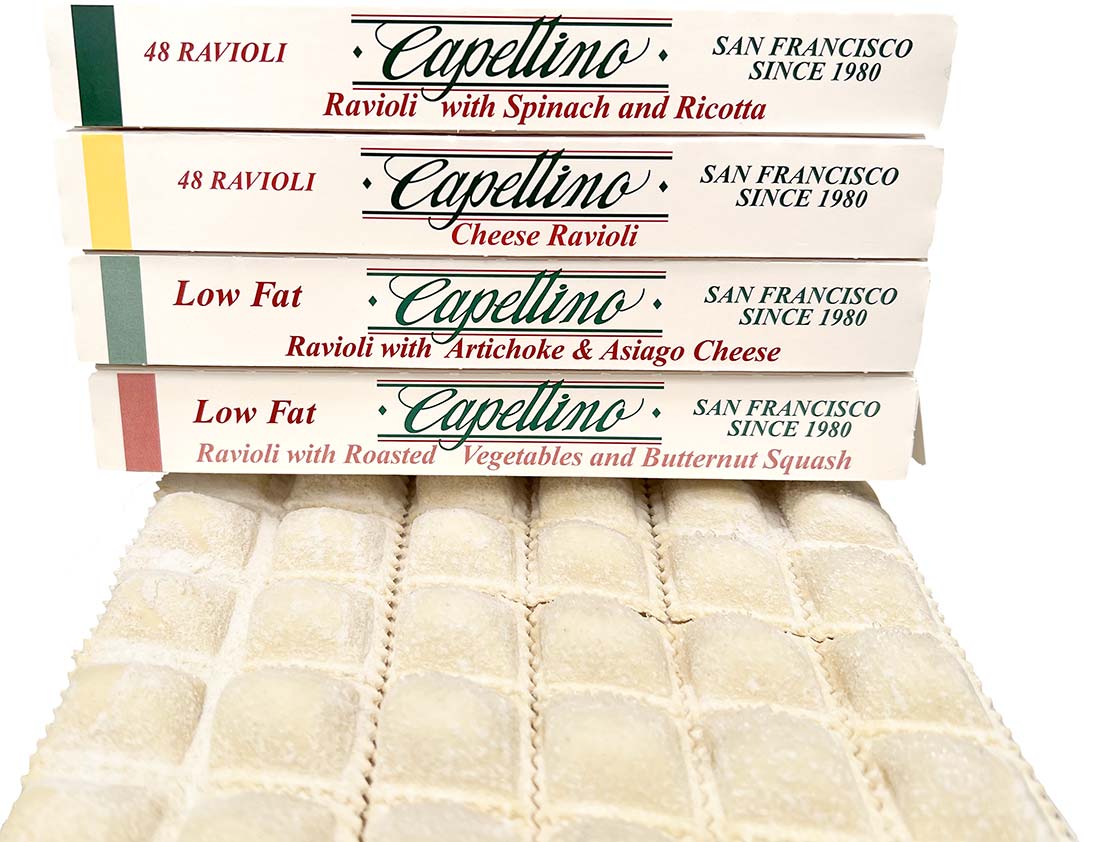 Most Sincerely,
Judith Capellino
judithcapellino@yahoo.com